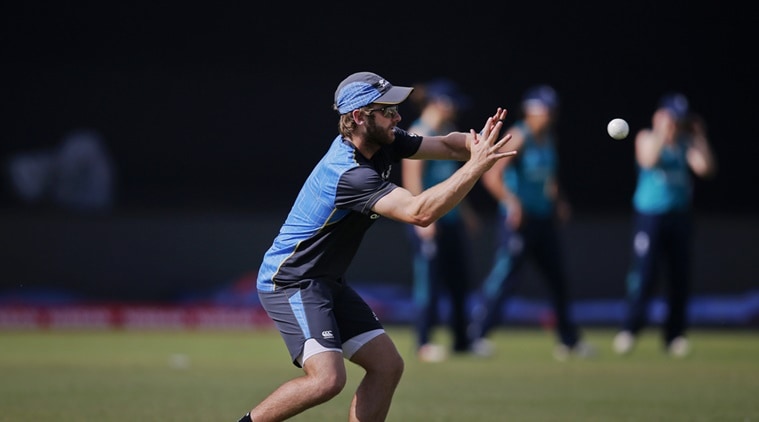 New Zealand who are unbeaten so far in the tournament are the favourites on paper against England. (Source: AP)
If you tried walking blindfolded in the precincts of the Feroz Shah Kotla nets, when England were batting under the unforgiving March forenoon sun, guided by the aural chaos of bat-on-ball thuds, you'll surely be led to the nets where Joe Root is batting. It's not that he hits the ball harder than other batsmen, or he uses some fire-spitting wood for his willow, but that the punctuating regularity of the ball reverberating off his bat's sweet spot was more regular than most of his colleagues.
(STATS || POINTS TABLE || FIXTURES)
Root's mood alternated between the murderous and the impish. One delivery, he would step out to David Willey and cudgel him straight onto the sight-screen, the next ball he would hunker down on his knees and paddle him behind. Then he would showcase his punchy square drive, before, maybe out of sheer tedium, he would attempt the ramp. Perhaps he was reliving his magisterial 83 off 44 balls against South Africa, which, but for Virat Kohli's stupefying effort in Mohali, would have easily been the knock of the tournament so far. In isolation, fully detached from emotions, there's little to choose between those efforts in terms of volume, quality, context or the consequence. Without those innings, and without these prima donna batsmen of this era, it's a fair assumption to say that both India and England wouldn't have been where they are now. Kohli is, by far, India's highest run-getter—184 off four innings at a strike rate of 132.37. Root's corresponding numbers read 168 at 150. He is England's top run-getter.
READ: Plenty to learn from Kohli, Root: Williamson
Then there is Kane Williamson — and Steve Smith too — completing the bracket of contemporary batting canons, each often spoken and compared in the same breath, with and without context or relevance. Smith's tournament has ended at the hands of Kohli, while Williamson has been relatively underwhelming, having managed 91 runs at a strike rate of 102.24. The latter stat can't be read into much, as he mostly does the support act to the more belligerent Martin Guptill. His highest score has been a 43-ball 42 against Bangladesh, where again he played second fiddle to the aggressive Colin Munro. Not that he can't score briskly — a strike rate of 124 in 34 matches is admirable — but his designated role has been different to both Root and Kohli's, especially with Guptill in such rambunctious form. Circumstances have thrust him the accumulator's role, one where he has to compromise on the aesthetics of his stroke-play for strike-rotation (even there, his nurdling and grafting have a beauty of its own).
WATCH: England vs New Zealand Preview (App users click here)
So Wlliamson, in his pre-semi-final press conference was cheekily asked whether he was waiting for his Kohli-Root moment in this tournament. Williamson, laughing out loudly, replied: "I would love to do that. They (Kohli and Root) have been playing brilliantly. I love both. They are outstanding cricketers and they have been fantastic for a long period of time. Watching these two bat and perform in the way they have been performing, you can learn a lot," he said. When saying this, he was genuinely appreciative of his peers, while also confiding that his own campaign hasn't been as spectacular as theirs. Perhaps, Wednesday portends better for him.
Cut from different cloth
Of the four, Williamson would be the unlikeliest guy to fret over numbers or be caught up in the sometimes-petty who-is-the-best-batsman rat race that the rest of the cricketing world is so fixated with. He seems to be thinking on a higher intellectual plane, a reason perhaps he appears so unflustered on the field, always in total control of his temper and reasoning. Even in routine football sessions, he is hardly the most noticed or vocal guy on the field. He lets the more maverick spirits shout and shoot and showboat their footballing skills. Seldom does he reach out for the ball, rather the ball reaches him, and he like good footballers always gives the feeling that he has more time and space at his disposal than others. His first touch is often a perfect tap, the ball falling obligingly at his feet, before he gently chips to his teammate, the swerve delectable in its flight. So if you walk up blindfold when Kane Williamson is batting at the Kotla, you'll probably end up thudding on the sight-screen, for he bats as if he has silencers fitted in his bat.
To this composure owes his uncluttered thinking, a trademark of all good captains. If any, his transition has been seamless and he seems to enjoy rather than be crunched by the weight of responsibilities. His approach is simple. "From my perspective, I am trying to do best job I can. It is important to come up with sound gameplans, execute them well, which we have done till this point. I think as a group, it's been nice to see through the transition, bringing the team together, continuing to grow," he explained. In that sense, he has made as much of a mark in the tournament as Kohli and Root through his sensible, intuitive captaincy. It's convenient to say that he has just followed the template set by his predecessor Brendon McCullum. But in his relatively short stint, he has shown the requisites to upgrade that template. He has infused considerable measuredness to McCullum all-out aggression brand of captaincy.
Wednesday will be another test of his captaincy, and especially analysed will be the means he would employ to strangle Root, who like Kevin Pietersen in England's triumphant 2010 campaign, is something of a figurehead, sans the latter's bombast and self-obsession. He is so unlike Williamson, too, so full of incandescence, sometimes even restive and always wearing that vivacious smile of his. So is his batting too. At his best , and even in T20s, Willamson is among the delightful batsmen to watch, while Root, with his baseball style bat-up stance, where the ball is held almost waist high as the bowler runs in, is more mechanical. But prolifically mechanical. Whereas Williamson optmises his veritable gifts in the most orthodox, and pleasing, manners, Root aspires to unearth new gifts, always wanting to add new shades to his canvas, eschewing orthodoxy at times.
He fully advertises the new England zeitgeist, the no-consequence, tension-free cricket, which skipper Eoin Morgan, who believes Root is the best all-round batsman in the world, explained: "It's all about having fun and enjoying what you are doing. It's almost now you earn a licence to go out and express yourself as much as you can. If you've guys coming out very relaxed about performing and performing on the big stage, I think that takes a lot of weight off the shoulders."
Morgan, like all other who watched Root that night, were left wonder-struck. ""Other players might be quite one-dimensional whether looking to get off strike or to hit a four. He's looking to diffuse any pressure with any scoring option. And it seems to be always low risk. He hits sixes, he hits fours, but it never seems to be a big issue." Like Kohli and Williamson too.
The fundamentals of their approach have undertones of New Zealand's free-spirited method in the 2015 World Cup. It's uncut version perhaps. Coincidentally, England gave the first signs of such a refreshing approach against New Zealand, during the latter's tour last year. The most talked about, debated and compared and contrasted players were Root and Williamson. The thread of the semifinal will be much the same. It would be fitting if one of their tournament ends at the hands of the other.