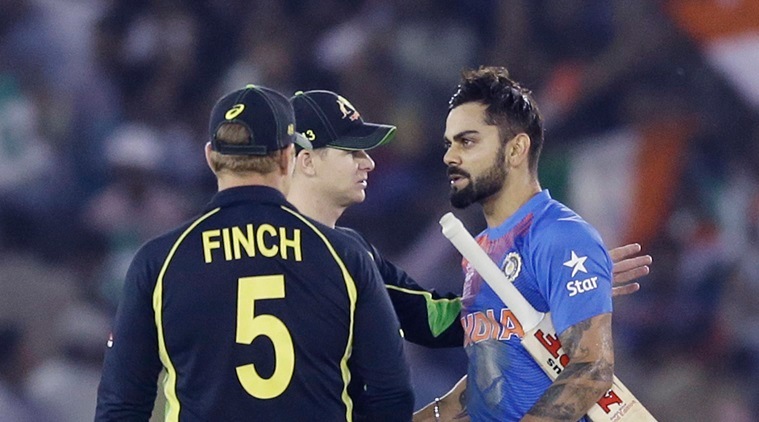 India's winning four against Australia off MS
Dhoni
's bat saw the most Tweets during the on-going ICC World Twenty20. (Source: AP)
After some serious action in the past one month, ICC World Twenty20 has reached its final stages. Team India has come back with a bang after losing to New Zealand in their opening match.
The action not only took place in the stadiums and on the pitches in India, but also on Twitter. Throughout the league stage of ICC T20 Would Cup, Twitter carried the roar of the crowd and gave fans the chance to get closer to the extravaganza. Since sports is the ultimate real-time experience, Twitter was the place for fans to get live updates from their favorite teams, players, coaches, writers, celebrities and fellow fans. Twitter has been the world's biggest cricket viewing party, where everyone can track every match, experience every wicket, boundary and glorious victory, both on and off the pitch.
Breaking previous records, the ICC World T20 2016 is the most Tweeted about international cricket event ever! 6.4 million Tweets were sent in the group stage, which is even more than the 2015 World Cup Group stage, which had 10 more matches.
Some record breaking highlights from the league stages on Twitter:
Twitter Record for Group Stage: 6.4 million Tweets for the league stage, easily surpassing the 6 million Tweets for 2015 World Cup league stage. 448 million Tweet impressions for the #WT20 league stage.
Tweets with official hashtag score: With an exciting event and introduction of the Twitter emoji, there has been a 4X growth in Tweets with #WT20 in 2016 (2.2 million Tweets) vs 2014 (540K Tweets)
Twitter Record for a T20 International: India-Pakistan was the most Tweeted T20 International ever with 1.12 million Tweets (67% higher than #INDvPAK at Asia Cup 2016) and 104.3 million Tweet impressions
Integration Success: 63% growth in #AskCaptain Tweets-per-match over 2015 World Cup with 32,000 Tweets sent so far; 105,000 Tweets for #WorldT20Heroes in just one weekend.
Soaring engagement for @ICC: 17X growth in Likes, 5X growth in Retweets, 5X growth in Tweet impressions for @ICC in WT20 2016 vs 2014
Super charged @ICC follower growth vs @WorldRugby: 3X follower growth for ICC during #WT20 2016 vs @WorldRugby during #RWC15
Top 5 matches from the Group Stages
1) India-Pakistan (#INDvPAK): 104 Million impressions
2) India-Australia (#INDvAUS): 77 Million impressions
3) India-Bangladesh (#INDvBAN): 46 Million impressions
4) India-New Zealand (#INDvNZ): 39 Million impressions
5) Sri Lanka-England (#SLvENG): 27 Million impressions
Top 5 moments from the Group Stages
1) India beats Australia by 6 wickets: 16K Tweets-per-minute
2) Another Kohli boundary, four needed from last over: 12.5K Tweets-per-minute
3) India beats Pakistan by 6 wickets: 12K Tweets-per-minute
4) India beats Bangladesh by 1 run: 10K Tweets-per-minute
5) Virat Kohli reaches 50 vs Pakistan: 7.6K Tweets-per-minute