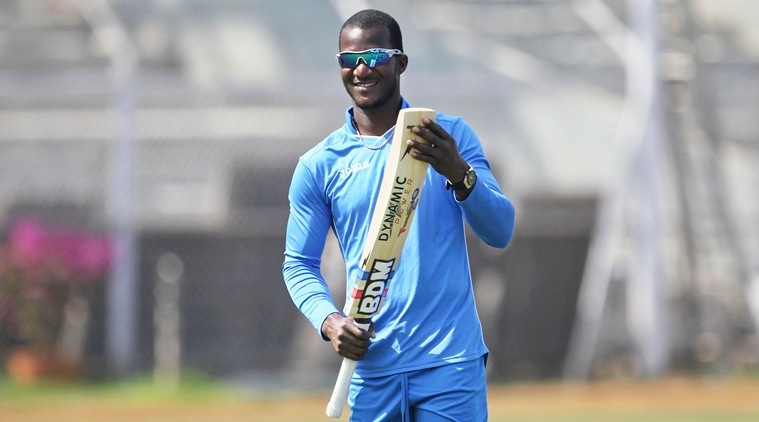 Darren Sammy said he has a feeling that it is going to be West Indies' year. (Source: AP)
West Indies captain Darren Sammy on Wednesday insisted that his side would be no pushover in the World Twenty20 semifinal clash against India on Thursday even though it seems like a "David vs Goliath contest".  (STATS || POINTS TABLE || FIXTURES)
"I think it is 80-20 to India, so it feels like David vs Goliath contest but people tend to forget David won the fight, so it's something similar to that," said Sammy on the eve of the clash in Mumbai.
"We haven't played the perfect game yet. We are stressing on rotation of strike. It is clear that we are a big boundary -hitting team. We look at the dot-ball percentage, probably it is 40-50 per cent for us, and we could improve on that. So far, we have bowled really well in the tournament and on a few occasions, one batsman has taken responsibility," he said.
ALSO READ:  All our bowlers will target Chris Gayle, quips Ravi Shastri
Sammy said he has a feeling that it is going to be West Indies' year.
"It (tournament) means a lot. No team has won the event twice. Later today, we will know if New Zealand or England wins, if we will have a possibility of that. Our game tomorrow creates that opportunity as well. For me, I have always enjoyed playing for the West Indies.
"I think this year could be the year for the West Indies. The Under-19 team started it in Bangladesh (by winning the U19 World Cup) and both the men and the women's teams took that as inspiration.
"Come tomorrow, we have two West Indian teams (men and women) vying for a spot in the final. I really wish both teams could go to the finals and win it. So, 2016 could be the year where West Indies take home everything," he concluded.
ALSO READ: Virat Kohli's journey: The top four reads about the batsman from World T20
Although Sammy admitted that star India batsman Virat Kohli would be a big factor in Thursday's game, but having the world's "best T20 cricketer" in Chris Gayle does even out the scales to an extent.
"…have you ever heard of Chris Gayle?" he asked, adding "There's no taking away from Virat, he's a very good player, but like I've said in my press conferences, we tend to focus on what we could do in our dressing room.
"Like we've shown throughout the tournament once we execute our plans right we've won the games. When we've not, we've lost. So it's going to be a hell of a game, it's going to be 15 West Indies players versus 78,000, plus billions of Indians.
ALSO READ: India's road to the semi-finals
"Yes, it's a challenge we're ready to face, We all know that India is always difficult at home, but main focus in our dressing room is doing what we do best," he said.
In the run-up to the World T20, the West Indies players had a pay dispute with their cricket board, which was resolved just in time, but Sammy said there was a total lack of support for his team from the region's cricket authorities.
"The lack of respect for our T20 team. A lot has been said about this team and we as a group. But it just brought us closer together," said the 34-year-old.
PHOTOS: India's roller-coaster ride to semis
"I said it before, we have number of guys in 30s and we came here in this tournament not playing a T20 in the calendar year, where we saw lot of (things) against us. That really brought the team closer together," Sammy added.
"You've to see the way we've played. We think it's us against the world. That 15 players and the support staff, it's just us, our own new circle against the world and that's how we've gone out and played."
High on confidence after some good performances in Super 10 stage, the West Indies captain said his team was looking forward to playing the home team.
ALSO READ: Quick look at the Wankhede semi-final
"Nobody gave us a chance and a lot was said about us which we've not spoken about. We had our moment but as I said (there are) six steps to (win) the World Cup. We've taken four. We had a little wobble in the match against Afghanistan but we've dusted ourselves up and the step tomorrow is against India and we're looking forward to it," he said.
Sammy pointed out that both the teams have players who are very good in the shortest format.
"You look at the two sides, especially with the experience in the dressing room playing T20s in both sides. We have players who play all around the world with a lot of experience. When you have somebody like Chris Gayle in the dressing room, who I think is the best T20 batsman in the world, his record speaks for itself. Other quality players in our team — Bravo, Russell, Badree, Benn. It's a good combination which allows you to win cricket matches.
ALSO READ: Yuvraj Singh ruled out of World Twenty20, Manish Pandey comes in as replacement
"On the other hand, you have somebody like Virat in India team, MS Dhoni and (Suresh) Raina, and all these guys. Both teams are really good and we are looking forward to that. What better place to play (than) here in Mumbai, (which is) one of the best wickets in India. It's going to be exciting," he said.
Stating that West Indian players always enjoy playing in India, he said: "A number of our players play here (in IPL). We have a lot of respect and camaraderie in the group."
On Wankhede pitch, Sammy gave a tongue-in-cheek reply, saying: "To be honest, I just want (a pitch) 22 yards long and probably 6 feet wide. That's a good cricket wicket. We play on whatever wicket is given. It is a semifinal, a lot is at stake. Whatever is given, we're ready to face the challenge."