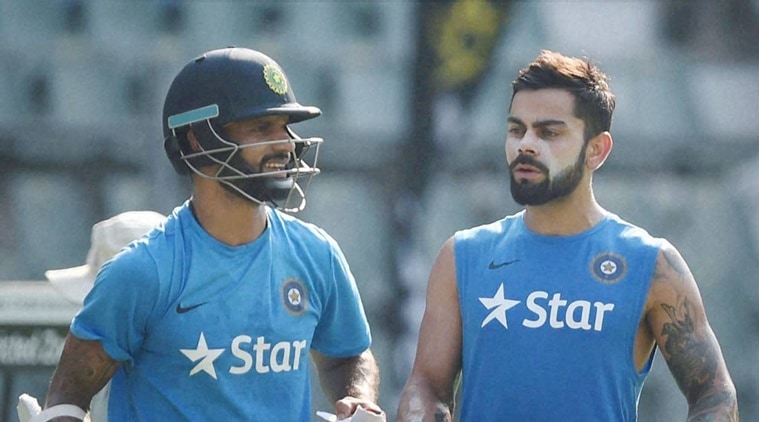 Where
Virat Kohli
(R) has been amongst the runs, the other batsmen have faltered on each occasion so far in the on-going ICC World Twenty20. (Source: PTI)
On the eve of the India-West Indies encounter, Ravi Shastri claimed India is only doing 70 per cent of what it can do. And it is safe to say that quite a large share of that 70 per cent also comes from one man – Virat Kohli as has been visible against Pakistan and Australia. But if India were to beat West Indies or even lift the trophy, they need to address some areas of concern.
(STATS || POINTS TABLE || FIXTURES)
Opening pairing needs to stand up
The total contribution by Shikhar Dhawan and Rohit Sharma at the front of the innings has been 84 runs in the four innings at an average of 21 runs. The highest partnership was 42 runs against Bangladesh. A good start in most cases means large scores but that has not worked in India's favour so far. Dhawan likes to take his time to settle in which is understandable but in such a format, you need to get off the blocks quicker than you can afford in ODIs. Rohit has also been guilty of getting going and then squandering his wicket – as he did against Bangladesh and Pakistan.
No Kohli, no runs
Kohli leads the Indian scoring charts by a comfortable margin. Where he's scored 184 runs in the four innings, next on the high scorers list is MS Dhoni with 74 runs. In fact, the combined scores of Rohit (45), Dhawan (43), Suresh Raina (41) and Yuvraj Singh (52) are lesser than that of Kohli's 184. Truth of the matter is, if Kohli were not to deliver for India, Men in Blue wouldn't even be here. This over reliance on one player is never a good idea. Just look at the New Zealand match and you realise that. In the opener in Nagpur, Kohli scored 23 but no one else chipped in with the runs and that resulted in India's 47-run loss.
READ: India's five unsung heroes
Pandya leaks runs (but gets wickets)
This is a tricky situation. Hardik Pandya has the worst economy rate for an Indian bowler in the tournament. While Suresh Raina tops the charts with an economy of 4.83, Pandya has the worst of exact 10 runs. In the four matches, he's bowled 10 overs and conceded 100 runs. But on the flip side to this, Pandya has embraced pressure, as noticed against Bangladesh in his death over, and picked up the most wickets (5) as against the four wickets by Ravindra Jadeja, Ashish Nehra and Ravichandran Ashwin.