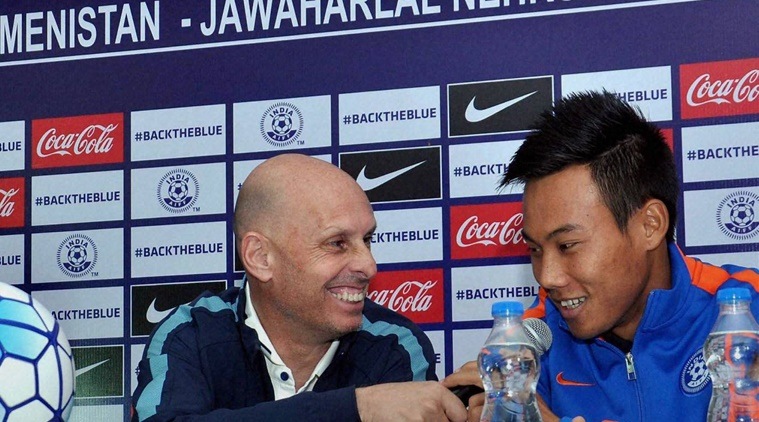 Indian football team manager Stephen Constantine's (L) future will be under scrutiny after an abject World Cup qualifying process. (Source: PTI)
India's 2018 World Cup and 2019 Asian Cup joint qualifying campaign ended just as it began – with a defeat. And although the loss to Oman last June was seen as a spirited performance in what were still Stephen Constantine's early days with the team, the abject surrender to every team since then along with another demoralising 2-1 defeat to Turkmenistan in Kochi on Tuesday has once again put the English-Cypriot coach's position under scanner.
READ: India go down 1-2 to Turkmenistan
All India Football Federation (AIFF) general secretary said they will be reviewing Constantine's future with the team, considering that the performances under him have left a lot to be desired. The loss to Turkmenistan was India's seventh in the campaign, with the team finishing at the bottom of the five-team Group D. India managed just one win in the eight matches and will now have to go through the rigour of a playoff to be a part of the final round of Asian Cup qualifiers.
The playoff will be held in June and the AIFF says they will decide if Constantine is the right man to lead India in the next qualifying phase. This is not the first time Constantine's role has been questioned. There were calls to part ways with him last October as well, but to sack the coach mid-way through the qualifying campaign was not seen as a viable option. Playoffs will be a different story. We have to do whatever is best for the team. Definitely a review has to be done. As far as World Cup qualifiers are concerned, the performance World Cup qualifiers is not good. We won the SAFF Championship but it's a different ball game," Das told The Indian Express. "We are all at loggerheads as to why the national team is not really performing. I think their capability is much more. Sunil (Chhetri) also admitted it. We have to figure it out ."
When India began the campaign last June, their target was to finish third behind Iran and Oman. It would also have helped them qualify directly for the final round of Asian Cup qualifiers. However, the team touched new lows in the last few months, with the defeat to Guam being the lowest point.
The only thing that could go in Constantine's favour is that he has handed debuts to 23 players since taking charge of the team last March. That inexperience was visible throughout the campaign and more so on Tuesday,